Yesterday was 9th June. So? It comes every year; what is special about this day? How many of us are even aware about the supreme sacrifice of the son of our soil who laid down his life to uphold his religion. In fact this day should be commemorated as the Sacrifice day. 
Have you ever heard the name of Banda Singh Bahadur (born Lachman Dev); (27 October 1670 – 9 June 1716, Delhi). There is not even a mere mention of him anywhere in our History book. Hence we will never know the tragic saga of this great Sikh warrior and a commander of the Khalsa army.
When he was 15, he shot a deer with his arrow while hunting. But he soon realised the deer was pregnant as the fawn was born immediately and it groaned to death. Lachman was extremely grief stricken and decided to become an ascetic. He was given the name ''Madho Das Bairagi'' before leaving his home. He established a monastery at Nanded, on the bank of the river Godavari.
In September 1708 Guru Gobind Singh, came to Nanded to collect forces and live the last years of his life. Guru Gobind Singh had lost all his four sons while fighting the Mughals. He prevailed upon Madho Das that when the country was passing through such turbulent times, he should not remain a spectator but in fact should give up his ascetic life. Madho Das became a disciple of Guru and was given the new name of Banda Singh Bahadur. He was given five arrows by the Guru as a blessing for the battles ahead. Guru also goaded Banda to take revenge for the killings of his two small kids who were buried alive by the Nawab of Sirhind. 
Banda Bahadur marched to Punjab with thousands of soldiers. He started his campaign by beheading Jalaluddin who was responsible for beheading Guru Teg Bahadur, the ninth of the ten Gurus who founded the Sikh Religion.  
In 1709 he defeated Mughals in the Battle of Samana and captured the Mughal city of Samana (located 30 kms south west from Patiala). On 12th May 1710 in the Battle of Chappar Chiri the Sikhs killed Wazir Khan, the Governor of Sirhind and Diwan Suchanand, who were responsible for the martyrdom of the two youngest sons of Guru Gobind Singh.
In March 1715, the army under the rule of Abd al-Samad Khan, the Mughal governor of Lahore, drove Banda Bahadur and the Sikh forces into the village of Gurdas Nangal, 6 km to the west of city Gurdaspur, Punjab and laid siege to the village. The Sikhs defended the small fort for eight months under conditions of great hardship but on 7th December 1715 the Mughals broke into the starving garrison and captured Banda Singh and his companions. 
Banda Singh Bahadur was put into an iron cage and the remaining Sikhs were chained. The Sikhs were brought to Delhi in a procession with the 780 Sikh prisoners, 2,000 Sikh heads hung on spears, and 700 cartloads of heads of slaughtered Sikhs to terrorise the population. They prisoners were put in the Delhi fort and pressured to give up their faith and become Muslims. On their firm refusal, these non-converters were ordered to be executed. Every day 100 Sikh soldiers were brought out of the fort and murdered in public (where the current Harding Library is situated). This continued for approximately seven days. Then Banda Bahadur was told to kill his four-year-old son, Ajai Singh, which he flatly refused. So, Ajai Singh was murdered in front of him and his heart was cut out, and thrusted into Banda Bahadur's mouth. However, his resolution did not break even under such gruesome tragedy and so he was then subjected to torture of unimaginable proportions. On 9th June 1716, Banda Singh's eyes were gouged out, his limbs were severed, his skin removed, and then finally he was trampled under the elephant's feet. 
(Incidentally, Chhatrapati Sambhaji Maharaj was also subjected to similar brutal torture by Aurangzeb to force him to convert to Islam). 
A war memorial was built where Battle of Chappar Chiri was fought, to glorify heroic Sikh soldiers. The 328 feet tall Fateh Burj was dedicated to Banda Singh Bahadur who led the army and defeated the Mughal forces. The Fateh Burj is taller than Qutub Minar and is an octagonal structure. There is a dome at the top of the tower with Khanda made of stainless steel.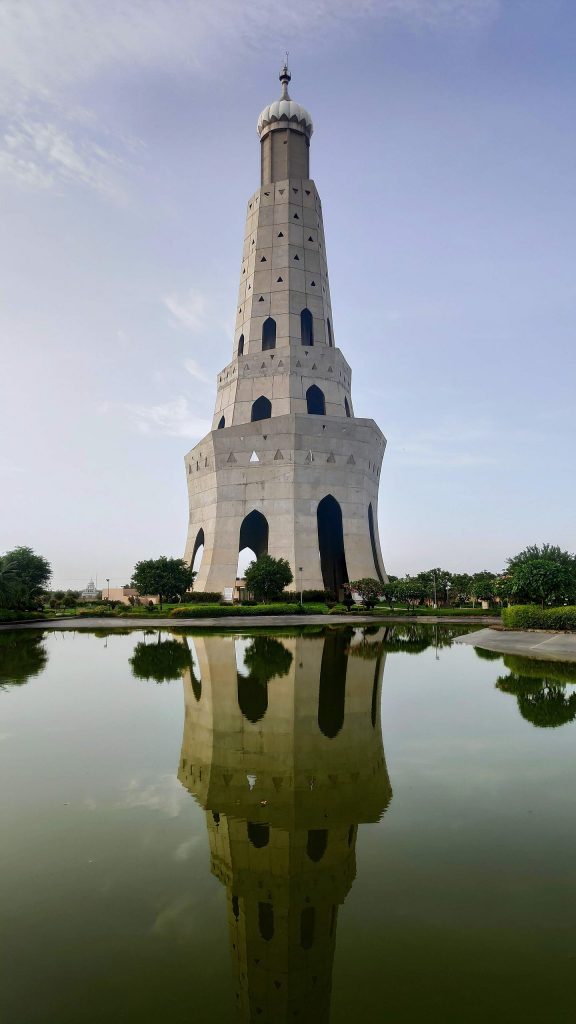 I sincerely hope that, sagas of Banda Bahadur Bairagi and so many other bravehearts who laid their life in their quest to save our motherland from foreign invaders, are taught in our schools and they will be remembered by future generations. That would be the real tribute to such heroes. 
@ Yeshwant Marathe
yeshwant.marathe@gmail.com