Major General Sir Alexander Cunningham (23 January 1814 – 28 November 1893) was a British army engineer who took an interest in the history and archaeology of India. In 1861, he was appointed to the newly created position of archaeological surveyor to the government of India; and he founded and organised what later became the Archaeological Survey of India.
From 1836 to 1840 he was ADC to Lord Auckland, the Governor-General of India.
Cunningham had a keen interest in antiquities early in his career. In 1834 he submitted to the Journal of the Asiatic Society of Bengal an appendix to James Prinsep's article on the relics in the Mankiala stupa.
By 1851, he began to communicate with the East India Company on the value of an archaeological survey. He provided a rationale for providing the necessary funding, arguing that the venture:-
... would be an undertaking of vast importance to the Indian Government politically, and to the British public religiously. To the first body it would show that India had generally been divided into numerous petty chiefships, which had invariably been the case upon every successful invasion; while, whenever she had been under one ruler, she had always repelled foreign conquest with determined resolution. To the other body it would show that Brahmanism, instead of being an unchanged and unchangeable religion which had subsisted for ages, was of comparatively modern origin, and had been constantly receiving additions and alterations; facts which prove that the establishment of the Christian religion in India must ultimately succeed.
In 1861, Lord Canning, then Viceroy of India, appointed Cunningham archaeological surveyor to the Government of India.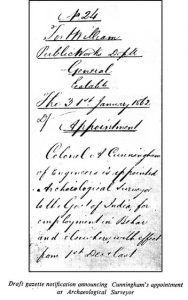 Letter dated 31 January 1862, appointing Cunningham as Surveyor General.
Most antiquarians of the 19th century who took interest in identifying the major cities mentioned in ancient Indian texts did so by putting together clues found in classical Graeco-Roman chronicles and the travelogues of travellers to India such as Xuanzang and Faxian. Cunningham was able to identify some of the places mentioned by Xuanzang and counted among his major achievements the identification of Aornos, Taxila, Sangala, Srughna, Ahichchhatra, Bairat, Sankisa, Shravasti, Kaushambi, Padmavati, Vaishali, and Nalanda. Unlike his contemporaries, Cunningham would also routinely confirm his identifications through field surveys.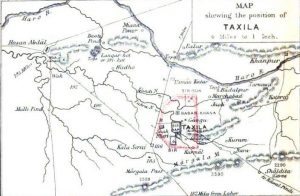 After his department was abolished in 1865, Cunningham returned to England and wrote the first part of his Ancient Geography of India (1871), covering the Buddhist period; but failed to complete the second part, covering the Muslim period.
His sheer genius coupled with love for this country and a dash of destiny led him to become "Founder of Indian Archaeology".
© Yeshwant Marathe
yeshwant.marathe@gmail.com
#ASI #Cunningham #Survey #Archaeology