The missionaries who came to India learnt the local languages from different parts of the country as it was felt to be necessary to propagate the religion. Justin Abbott was also a missionary. He was born in Portsmouth NH in 1853. His ancestors were nicknamed 'Abbott' as they were Christian missionaries for many generations and were abbots. He came in 1857 to Rahuri (Ahmednagar Dist.) and stayed there for next 30 years.
However, he did not consider learning Marathi only as a part of his work, but he studied Marathi literature in depth. He was so fascinated by that literature, that he gave importance to translating the work of Marathi saints into English and also composed his own literature in Marathi on the same subject. Justin studied saintly literature in Marathi and read Vedanta philosophy from Sanskrit, as well as discussed it with Vedic scholars. From all these studies he wrote a series of eleven books in Poet Saints of Maharashtra. The words, teachings and literature of Marathi saints were unknown to people in Western countries. In order to make them understand this literature, Justin published his books by translating them in English.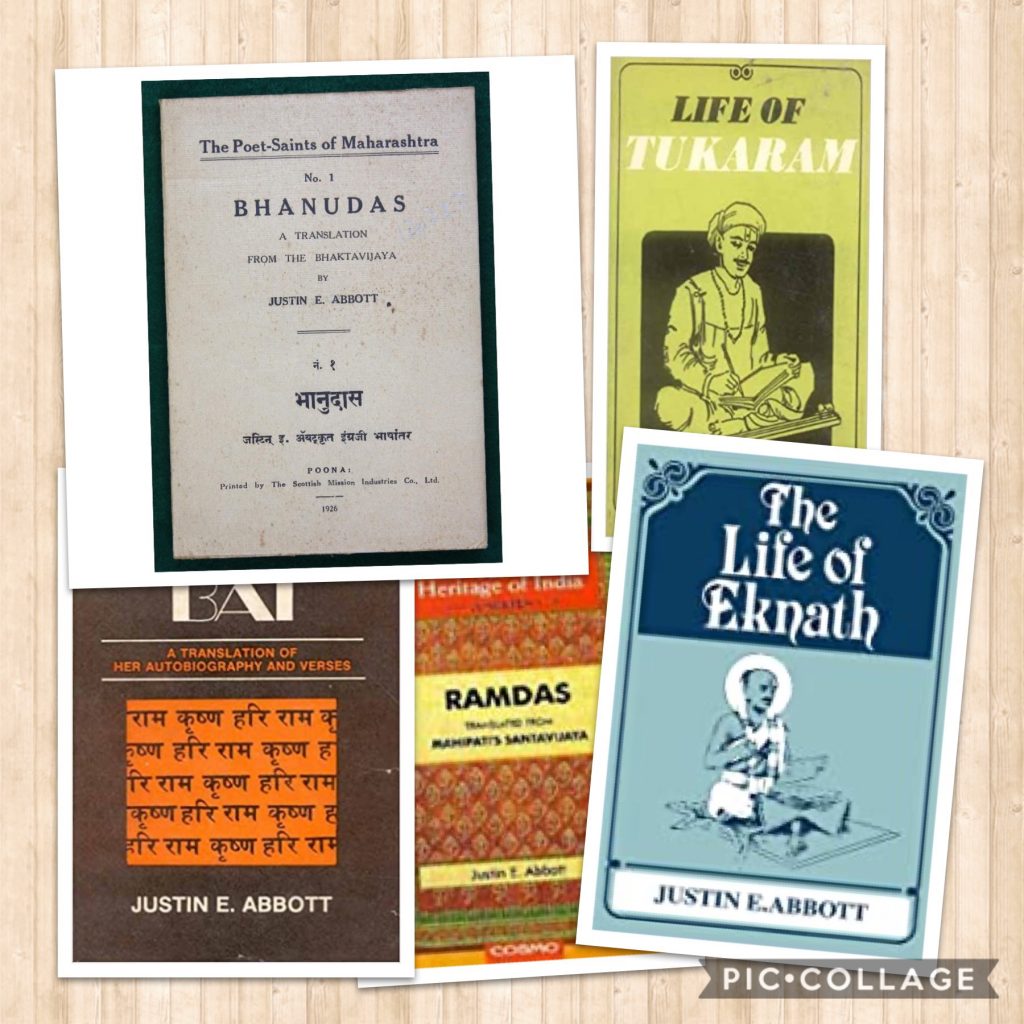 Justin's literary works include Tukaram, Ramdas and eight editions of Santvijay. He also translated Mahipati's Bhakta Vijay as Stories of Indian Saints. This covered almost all of the major saints such as Jayadev, Tulsidas, Namdev, Kabir, Dnyandev, Janabai, Chokhamela, Matsyendranath, Gorakhnath and Changdev. As of 2014, 38 editions of the 507-page this English book have been published. Similarly, thirteen editions of the English translation book on the life of Saint Poetess Bahinabai and her Abhangs. Justin's could not complete some books on this saint's literary treasure but were later completed by his colleagues. Justin was so fascinated by saintly literature that he continued to study saintly literature until his death. In his later years, Abbott moved to New Jersey, USA. He died there in 1932.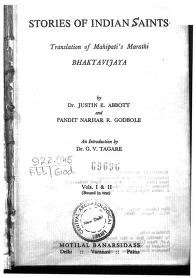 How the Bhakta Vijaya was Translated
This book contains the first published English translation of Mahipati's Bhakta Vijaya which consists of forty thousand lines of beautiful Marathi poetry. The first task in this Foreword is to introduce the work to English readers by indicating some of the limitations under which this work has been prepared. This English translation of one of the great Marathi classics is published under the provisions of the last will and testament of the late Dr. Justin E. Abbott. He was like a loyal son of Maharashtra who translated important sections of the lives and writings of the Poet Saints of Maharashtra into English. The present work is planned to appear in two volumes, the second being already in the Press. The foundation for these two volumes had been well and truly laid in the completion of the first draft translation by Dr. Abbott before the final stages of bis physical weakness. The scholar spent about eighteen months of the last two years of his life on this task in spite of being a patient. His method of work during those last months was to follow the Marathi text from a volume placed on a movable book-rest attached to his couch or bed, while he dictated his translation into a dictaphone whenever he felt fit for work, a lady attendant afterwards typing off the translation as repeated by the dictaphone. Though kept to his bed continuously for several weeks during this period, sometimes in a serious condition, he nevertheless pursued his task with his usual cheerfulness.
It was as if that daily fellowship with the Poet Saints was a great comfort in his loneliness. And as we have worked over this translation, which was produced under such conditions of physical disability, we have done so with the feeling that we were permitted to gaze upon a monument of heroic industry and endurance. The important factor was that the typist neither knew Marathi, nor how to spell or pronounce Marathi proper names, nor could her copy be corrected by the translator. In view of these and similar facts we felt there was no alternative but to compare the entire translation with Mahipati's original of ten thousand Marathi verses of four lines each. This we began under the competent guidance of Pandit N. R. Godbole who is rightly given his place on the title-page as joint-author of the book. The major portion of the alterations that were necessary having arisen from the confusion caused by the three stages of sound in the typing of the manuscript, viz. the voice of the person dictating, the sound as emitted by the dictaphone, and the word-sound as understood and typed by the non-Marathi typist.
Pandit Narhar R Godbole's opinion about Dr. Abbott's English Style
A word seems necessary about Dr. Abbott's English style in his translation. His aim throughout the series has been to let the Marathi Poet Saints speak for themselves as far as that is possible through the medium of a translation. However there were few remarks that the translation was 'jerky' and 'disjointed' but that was due to the attempt to turn oriental poetry, and that Mahipati's difficult ovi poetry, into occidental prose.
While working for Dr. 'Abbott I was often impressed by the meagreness of my knowledge of Marathi, and I have often found that his English translation has enabled me to elucidate the meaning of the Marathi text. In May 1928 I presented copies of Dr. Abbott's first and second publications to the learned Shri Shankaracharya, Dr. Kurtakoti, who was so delighted with them that he was pleased to confer on their author the high title of Bhashabhushan ( 'an ornament to the language').
Justin Edward Abbott was an American Christian missionary whose name would be prominent in the history of Marathi literature as a foreign writer of Marathi Saint Literature.
Yeshwant Marathe
yeshwant.marathe@gmail.com