Colin Mackenzie was born in Stornoway, in northern Scotland in 1754.
He secured a Commission in the East India Company's army in Madras in September, 1783. He served in the campaigns against Tipu Sultan during the Third Mysore war. The sketches he prepared on the eve of the war indicating the position of the British Batteries, were highly complimented by Lord Cornwallis, the Governor General who conducted the war to a success.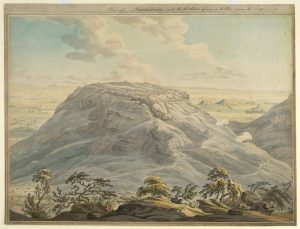 (Watercolour from the Mackenzie collection showing Nandidrug in October 1791 with the batteries firing. The position of the batteries was decided by Mackenzie and was commended for his role in the victory over Tipu Sultan) Source: British Library
Colonel Colin Mackenzie's name is irrevocably linked to the huge collection of Oriental manuscripts, local histories, charts, maps, sketches, coins, paintings, icons and other artefacts that have a bearing on India's history and culture. Mackenzie was a Scottish army officer in the British East India company who became the first Surveyor General of India. It was he who produced the first authentic geographical map of south India.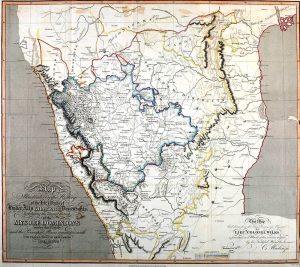 Mackenzie was the first to bring to light the rich architectural heritage of the Vijayanagara ruins at Hampi. As part of his survey, he visited that site in 1799 and got a few watercolor paintings of the monuments. The pencil sketch map of Hampi site Mackenzie drew is preserved as a part of a folio in British Museum.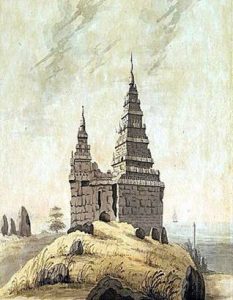 He recorded local histories, inscriptions, religious practices, festivals and social etiquette. Mackenzie's collections are prized possessions in several museums and libraries both in England and in India. One of Mackenzie's chief interpreters was the versatile Kavali Venkata Burriah who knew Telugu, Tamil, Kannada and Sanskrit. After Burriah's death in 1803, Mackenzie took his equally competent younger brother, Kavali Lakshmaiah, who had a long and enduring association with him.
The magnitude of Mackenzie's labour can be gauged from the number of items that form part of his vast collection. The total number of the inscriptions that he collected exceeded 8,000. The manuscripts in about 13 languages, including Burmese and Javanese were 1,500. Local tracts, known as Sthalapuranas were 2159. The annals or Ballads were more than 2000 and their translations into English ran to 75 volumes. The maps and drawings accounted for 2,630. Coins of different dynasties in gold, silver and copper were to the tune of 6000. The exquisite icons and sculptures were 146. Mackenzie's is considered the most extensive collection of historical documents related to India ever made by a single individual in Europe or in India.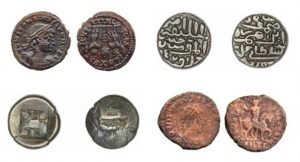 Col. Colin Mackenzie's survey of India resulted in a mountain of manuscripts on its history and legacy.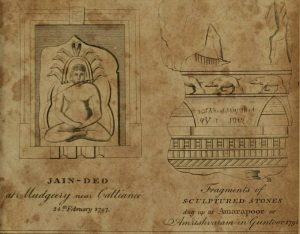 Mackenzie died in Calcutta on 8 May, 1821 without returning to his place of birth even once. The government purchased his entire collections from his widow for a sum of Rs.1 lakh.
A memorial stone slab that was erected in his honour is the memory of this proud son of Stornoway, who collected a mountain of manuscripts in India.
Yeshwant Marathe
yeshwant.marathe@gmail.com
Ref: KSS Seshan Article
#Mackenzie #Tipu_Sultan #Stornoway #Hampi