James Thomas Molesworth (1795 – 13 July 1871) was a military officer in the services of the British East India Company, and one of the most prominent lexicographers of the Marathi language.
James was educated at Exeter and arrived in India at the age of 16 after joining the East India Company as an Ensign. His knowledge of the Marathi and Hindustani languages enabled him to serve as an interpreter for the 6th and the 9th Native Infantry regiments.
In the year 1818, while Molesworth was stationed in Solapur along with his fellow interpreter Thomas Candy, the two started compiling a glossary of Marathi words. However the work was formally begun in 1825, when Molesworth was stationed in Bombay. The work was simultaneously carried out for a Marathi-Marathi and a Marathi-English dictionary with the assistance of the twin brothers George and Thomas Candy, and a team of native Marathi-speaking Brahmins. A preface to the first edition of the Marathi-English dictionary describes the process as follows:
We employed Brahmans in several quarters of the Maratha territory to collect words, phrases and proverbs. We obtained, after all rejections under the heads of repetition, corruption, unsuitableness. More than twenty-five thousand words were investigated for grammatical designation, the derivation, the orthography, the gender, the meanings primitive and figurative, the applications regular and popular, the currency whether general or local. The points settled were written down instantly in Marathi and English.
The manuscripts were completed in 1828. The Marathi-Marathi dictionary (titled महाराष्ट्र भाषेचा कोश a.k.a. The Dictionary of the language of Maharashtra), containing approximately 25,000 words, was printed and distributed by the Bombay Native Education Society. A delay in the printing of the Marathi-English dictionary was used to advantage by Molesworth by augmenting it to 40,000 words. It appeared in 1831, under the title A Dictionary, Murathee & English, compiled for the Government of Bombay, by Captain James T. Molesworth.
In 1851 he returned to India to prepare a revised version of his Marathi-English dictionary. This work, containing 60,000 words, was published in 1857,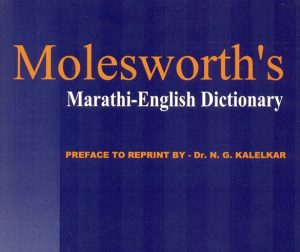 Molesworth's fluency in Marathi was much admired by his Indian colleagues, and his name was affectionately Indianised to 'Molesarshastri' or 'Moreshwarshastri'.
Unfortunately no photo of James Molesworth was available on internet.
© Yeshwant Marathe
yeshwant.marathe@gmail.com
#Marathi #English #Molesworth